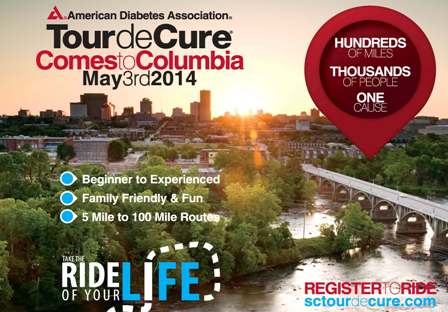 We're once again looking for folks to work one of the biggest cycling events of the year. The Tour de Cure has moved its start/finish and we have new routes to check and then cover on the day of the event. W4RWL, Ronnie will be coordinating route surveys as the finalized maps/cue sheets become available.
Here are the specifics we know at this time:
Pre-program 146.715 pl 91.5 (this is not certain but will know in a week or so)
Start/Finish at Robert Mills House downtown Columbia
Pre-event meeting at 6:30am, corner of Pickens/Blanding at the SCHEART trailer
8 rest stops
4 routes
LOTS of Sweeps and SAGs
This is an all day event. You will need to be prepared with your own drinks, snacks, chairs, bug spray, etc. Because we're out all day, there just typically isn't much left from lunch by the time everyone gets back in. Folks working rest stops may be asked to bring a field rig and antenna based on assigned position.
We can guarantee a few things:
You WILL have fun! We always have a great group of hams working the event.
You WILL learn something new! We always learn something when you're working an event.
You WILL be tired when you get home!!!
Please let our event coordinator Tammy, N4TAL, know if you are available to work this event. (E-mail, n4tal@w4cae.com)